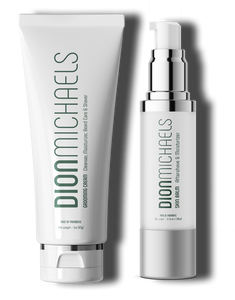 Level up your confidence.

No more searching for solutions that simply don't work. We had you in mind when we created a custom formula for every possible skin type, tone and facial hair pattern.


Shop Now
Confidence.
We want you to feel like you're on top of the world. Say goodbye to razor burns and beard shadows that won't let you be confident. Our custom-blended formula is non-toxic, paraben-free and works for every skin type. #oneforall


Learn more
What others had to say.
I have been using Dion Michaels grooming cream and skin balm for a couple of months. I love the close, smooth shave I receive to my head and face. The skin balm has a great smell.
Love the product line of Dion Michaels – while using the combination of the two products, I have noticed that my beard shadow is not as pronounced and I have a more even skin tone. People have noticed the difference in my skin!
I recently began using your skin balm . I have to tell you that it is AMAZING!! It locks in moisture without being oily. For men with bald heads, it's even more amazing because it keeps your scalp moist without the shine that normally comes with products for bald heads. I just ordered another bottle!
❮
❯
Not your average solution.
We're so confident in our product, we offer a 30 day money back guarantee. Subscribe today and leave "Average" forever. Pause or cancel anytime.


Subscribe Now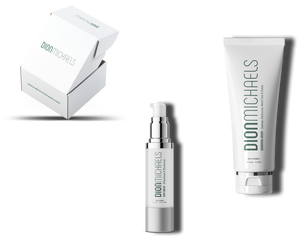 As Seen In
Endorsed by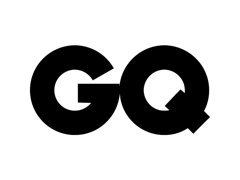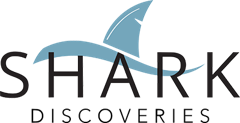 FAQ.
Is this skincare routine easy to use?
Yes, this two-step regimen is designed for daily use to achieve healthy looking skin.

Why is a skincare routine important for me?
Unless you have an identical twin, your face is the one thing that distinguishes you from any other person in the world. By selecting the right skincare routine for your unique self, your face can leave a lasting impression on others.

How long does it take for the skincare routine to work?
With consistent use, a noticeable difference in the appearance of your skin will be seen within 7- 14 days.

Is this skincare routine effective on sensitive skin?
Yes, our specialized custom blend of ingredients was designed with the sensitive skin in mind.

What is the most effective way to use the skincare routine to achieve the best results?
The combination of using both the grooming cream and the skin balm consistently as directed on the labels will achieve the best results.

What are the different uses for the grooming cream?
The grooming cream is a multi- purpose product. It has many uses which includes, cleansing (bald head, face, and beard), moisturizing (bald head, face, and beard), and shaving (bald head and face).

What is the purpose of the skin balm?
The skin balm is design to provide added moisture to the skin.