Get a Free Sample Now
just pay for shipping + handling
They began researching and developing solutions that worked for them, resolved their skin issues, and brought back their confident radiance all while attending college.
Years after graduating from college, the duo reignited their desire to build a business designed to help others in underserved markets. Understanding the massive gap between men's and women's skincare, they decided to create not just a company, but a movement to help men regain their confidence and feel great in their own skin. This movement became Dion Michaels - Skincare For Men. Dion Michaels is dedicated to bringing men on a transformative journey to rediscover confidence and re-write the societal lies surrounding men's skincare with simple, healthy, and minimalistic formulas that are seamlessly integrated into any routine. It is time to create a cultural shift that is inclusive of all men, all ethnicities, all skin types, and all
ages.

Won't you join us?
#oneforall.
let your skin repair itself.
Say goodbye to irritating razor burns and dry beards. Our custom-blended ingredients are free of harsh chemicals and they're non toxic. In fact, our products protect your skin's natural barrier, which guards against toxins.
Shop Now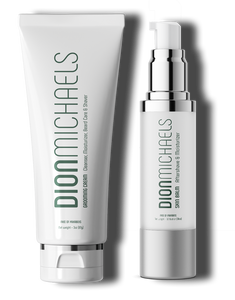 Non-Toxic

We don't want you to put bad stuff on your skin. Your skin deserves the best.

Paraben-free

Parabens are very dangerous and you won't find those in our products.

For every skin type

Our formula is suitable for every skin type, whether you have a beard or not.
meet the two behind the scenes.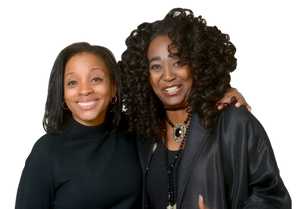 For decades the skincare and beauty industry have notoriously left out roughly half of the entire population on the basis of sex. Women's skincare is not only a 50 billion dollar per year industry, it is a movement. This industry has catered to women with varying skin types, ethnicities, ages and allergies, building multi-step programs to help nourish and protect the skin.
However, the men's industry is only a fraction of that, barely reaching 12 billion per year, and creating "all-in-one" systems that alienate a large demographic of the world's men. This massive divide in attention, resources, marketing and stereotypes is fueling the notion that men are an afterthought and they do not deserve to feel confident in their skin.
Tammie Sykes and Simone Randle are college friends who suffered horribly from various skin conditions, that took a toll on their self-image and confidence. The two quickly developed an unparalleled friendship and passion for skincare and purpose-driven entrepreneurship.

Each of our products is built to be multifunctional, reducing steps, and saving time. Our Grooming Cream is a cleanser, moisturizer, and shaver all-in-one. Our skin balm doubles as an aftershave. As we grow our product line, we will continue to prioritize simplicity and healthy minimalism. Our customers can focus on being confident and transformative—the essential things in life.